Cooch's Bridge Historic Site undergoing another revolution
The Cooch's Bridge Historic Site, the scene of Delaware's sole Revolutionary War battle, is the home of several structures that are undergoing their own revolution.
On Monday, Aug. 28 at 6 p.m., the public is invited to a virtual public meeting review information gathered for the site's interpretive plan, which will outline what is needed to make the site accessible to the public in the future. Participants will be encouraged to share feedback and ideas on potential programming, target audiences and infrastructure. To register for the virtual review meeting, go to us02web.zoom.us/webinar/register/WN_0CJwxylsTPy4OHLpYf4OTg.
This summer, work began on two of the homestead's important historic structures, the carriage house and the granary, which date back to the mid-1800s. Initially, the buildings were slated to receive exterior renovations, including new roofs, without any significant repairs or preservation to the interior. The Friends of Cooch's Bridge Historic Site graciously raised $350,000, which it donated to the division in order to complete the work. 


"The Friends were instrumental in being able to get the funds we needed to get that work started," said Site Manager Kaitlyn Dykes. "We are so incredibly thankful for all of the members who helped, even by donating as much as $5. We're excited to see it moving along pretty quickly."
The carriage house, where carriages were kept in pre-automobile days, and the granary, where corn and wheat were stored between harvesting and milling, both were originally slated for exterior work. However, that funding has allowed the scope of the project to expand as it became clear that the buildings needed more than a facelift.
Both of the hundreds-year-old buildings needed their foundations to be stabilized, and both had structural issues due to their advanced age.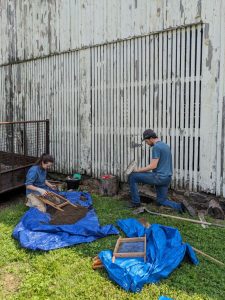 Additionally, other outbuildings including the chicken coop, smokehouse and ice house were also found to have foundation issues and/or structural issues that needed to be addressed. Because of the generous donation from The Friends of Cooch's Bridge Historic Site, the division was also able to breathe new life into these historic structures. The brick walkway that leads to the main house was also fixed this year.


This exciting preservation project is the first major step taken toward opening the historic site to the public. Once this project is done, the division will be able to move on to other areas and structures that need work before the site is fully open to the public.
To learn more about the site's interpretive planning process, go to history.delaware.gov/2022/08/15/coochs-bridge-interpretive-site-plan-underway.